Sunscreens: impact on the ocean and health
Whether they have chemical or mineral filters, we know that sunscreens have an impact on ecosystems, including corals. More research is needed to understand the full effects on the environment and our health. Faced with the increase in the number of sunscreens sold in Europe and the many questions arising from their use, Surfrider Foundation has decided to address these issues.
See the infographic
Protecting users and the ocean
Practising water sports on the coast, in our rivers or lakes is an undeniable source of well-being. However, this practice can be accompanied by risks.
One well-known health risk is the effect of the sun's ultraviolet rays. Prolonged unprotected exposure to the sun can lead to sunburns, accelerated ageing of the skin and even severe burns and skin cancer.
Indeed, some products can have devastating effects on marine fauna, and in particular coral reefs, but also on health due to certain ingredients they contain.
In order to limit these risks, the use of sunscreen products has become essential in summer, and in all seasons. There is now a very wide range of products available in the form of creams, lotions, sprays, sticks, gels, oils, etc.
However, the impact of sunscreens on the aquatic environment and human health has been the subject of growing concern for several years now, both among scientists and within civil society. Indeed, certain creams can have devastating effects on marine fauna, and in particular coral reefs, but also on health due to certain ingredients that compose them.
"The European sun protection market is worth €3.4 billion in 2019."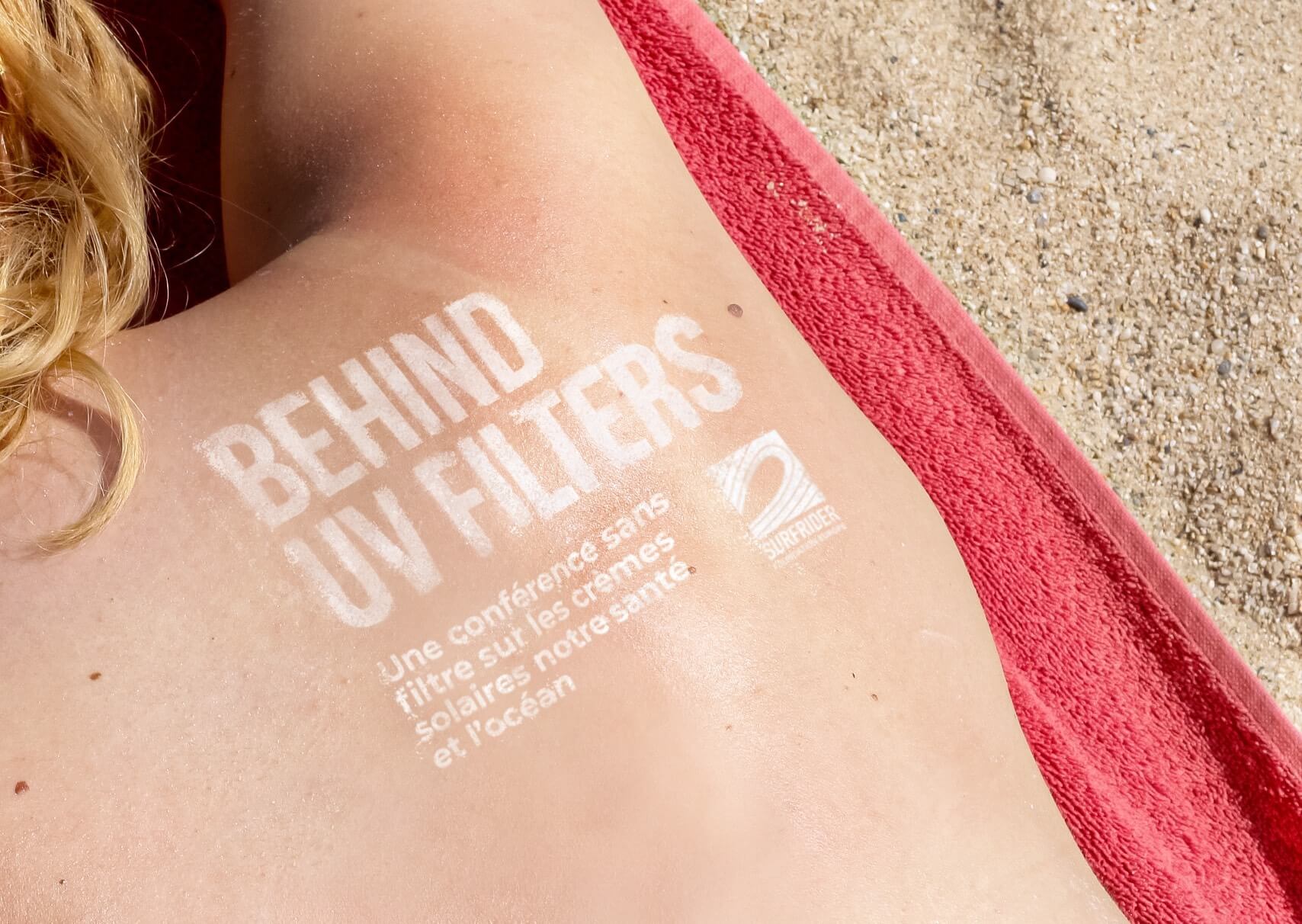 Décideurs, fabricants, citoyens : comment réduire l'impact des crèmes solaires sur l'océan et la santé
As part of its Healthy Waters campaign to improve water quality for all Europeans and to fight against water pollution, Surfrider Foundation has been looking into the impacts of sunscreen products. Here are our recommendations to reduce pollution from sunscreens while protecting your health.
Sunscreen filters: a health issue
There are two types of sunscreen products: chemical (or organic) filters and mineral filters. However, these suncare products are not without impact on the aquatic environment and the health of users.
Chemical filters absorb solar energy like a sponge, converting it and then releasing it in the form of non-hazardous radiation. Mineral filters, on the other hand, base their sun protection on the presence of zinc oxide or titanium dioxide, ingredients that act as shields for the skin, reflecting the sun's rays rather than absorbing them.
From a health point of view, a number of studies have demonstrated the impact of certain chemical or mineral filters, which are accused of being endocrine disruptors, causing allergic reactions and being carcinogenic or even mutagenic, particularly when they are in the form of nanoparticles or because of their ability to penetrate the skin. Against this backdrop, the use of nanoparticles in mineral UV filters has raised questions in parts of the scientific community, prompting new studies on the subject. Given the proven or suspected harmfulness of these substances, caution in the use of sunscreen is necessary.
"Endocrine disruptors or carcinogens, some chemical or mineral filters have harmful impacts on health."
What is the impact of sunscreens on the environment?
¼ of the sunscreen product applied on the skin is diluted in water within 20 minutes. Every year, 25,000 tonnes of sunscreen products are discharged into the aquatic environment worldwide.
Sunscreens are a heavy source of pollution and stress that directly affect them (beaucoup de répétitions d'aquatic environment). Impacts have been observed on many aquatic species. They can be direct or indirect, and they can concern the metabolism, physiology or behaviour of the surrounding fauna :
– Direct : on reproduction, growth, mortality of species…
– Indirect : the disappearance of foundation species will have an impact on the biodiversity depending on them.
"Each year, 25,000 tonnes of sunscreen products are reportedly discharged into the aquatic environment worldwide."
Behind UV filters: our expert conference on sunscreens
On June 16, 2022 in Biarritz, Surfrider Foundation organised a conference, unfiltered, on sunscreens, in order to discuss the risks and impacts on the environment and human health, as well as possible solutions to limit these impacts. On this occasion, Surfrider wanted to bring together members of the scientific community, the industrial sector, the society society as well as consumer representatives to exchange and review the state of knowledge on the risks and scientific advances around sunscreen products.
"Bringing together scientific experts, industrialists, citizens and consumer representatives to discuss sun creams"